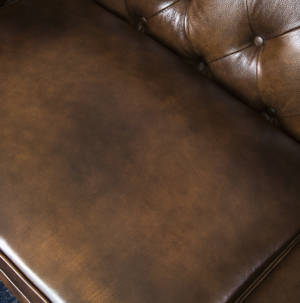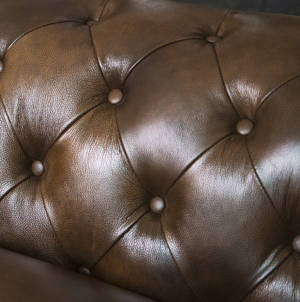 DEPTH AND ARM HEIGHT
The depth and arm height are one of the most important things dictating comfort with a Chesterfield. There are so many out there that are too shallow or cut into your back uncomfortably. You want to make sure you choose the model that suits it's purpose. If in a home, then make sure the depth is enough that it supports your upper back when reclining. Try sitting in the corner for a good indication. If it's sitting in an office or lobby then depth is less important.
 LEATHER QUALITY AND SEAM STITCHING
Chesterfields are time consuming to upholster – which is why they're often more expensive than a normal sofa. Similarly, because of the button tufting they also require more leather – again increasing price. This is unless each piece of leather used is a small 'off cut', in which case you'll find a stitch in the seam. So when looking, pull apart the leather creases running off the buttons (as many as possible) and look for stitches. To have some stitches/seams is fine, but your sofa shouldn't have them in almost every fold – if that's the case it's poor quality.
Also make sure the leather is of a high grade – many Chesterfields use lower quality leathers that have been poorly dyed or distressed to look old. Make sure you choose one that's soft to touch and not shiny or mottled.
 SPRING SUSPENSION
The best Chesterfields should have a great seat cushioning, base cushions and/or a spring system on the base and arms. 'Coil' systems are the best and if also done on the arms (which is the traditional way) then you'll be guaranteed comfort and quality. Poorer quality Chesterfields will only add webbing suspension to the base and use foam on the arms.  Stay away from those.